We type it for you. You sign it. We hand file it. We publish 4 weeks. We file LA County affidavit.


No changes. Every line same as 5 years ago.
We type it for you. You sign/notarize it. We file and mail the conformed certified copy.

LA COUNTY INTERNET SEARCH OF BUSINESS NAME
(Are you sure your Business Name is available?)
(No Charge)

Secretary of State of California for Corporations/LLC
(Need to check your corporate status? No Charge.)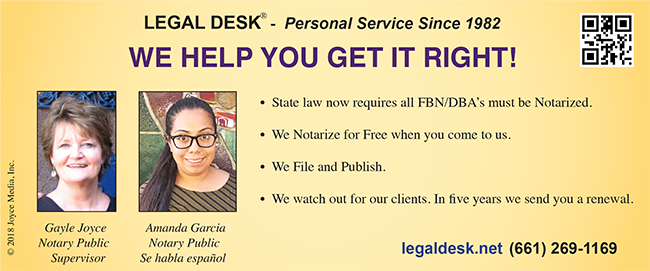 Good for 5 years.
Stamped/conformed copy mailed to you next day.
LEGAL DESKTM:
We file and publish legal notices.
Fictitious Business Name Statements (FBN/DBA).
AAD News Adjudicated in L.A. County Superior Court #NOC.9391
3413 Soledad Cyn. Rd.
P.O. Box 57
Acton, CA 93510-0057
Office (661) 269-1169 Fax (661) 269-2139
legaldesk@joycemediainc.com
www.legaldesk.net